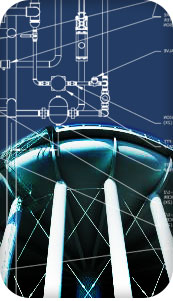 A recent survey of food manufacturers reveals that many in the industry are concerned about water shortages, water quality and usage. Forty-five percent of respondents reported experiencing "detrimental impacts" related to water concerns and 71 percent had set a target to reduce water usage. If you are interested in using water more efficiently in your process – to impact your bottom line as well as to meet sustainability goals – it might be time to reduce waste streams and increase water use efficiency throughout the plant. Our team can help you assess your system to identify areas where water is being used inefficiently. Often, these inefficiencies can be addressed in one of three ways:
1) Cut the waste at the source.
Reduce water losses through automation and instrumentation improvements, as well as tuning existing controls and parameters for optimum settings. Optimizing turbidity can be very helpful with systems such as the Anderson ITM-3 or the Tuchenhagen Breconcherry orbital washers, both available through Wright Process Systems Industrial Distribution.
2) Look for reuse opportunities.
For example, your plant could use mostly-clean waste streams as boiler feed water, CIP initial rinse water, and even irrigation gray water. By reusing water already generated within the plant, you can dramatically cut fresh water consumption. For more on this topic, check out this article in Industrial WaterWorld.
3) Treat water like a premium product, not a limitless utility.
In the coming years, as water becomes increasingly scarce, plant managers will find both financial and operational benefits to treating water more as valuable resource and less like a utility with an unlimited supply. Many plants in the Western United States have already implemented water-saving methods, but there are new ways constantly under development to increase efficiency and maximize the uses for water within a plant. These methods can both money and protect the water supply for future use. Some of these processes involve changing production practices to reduce messes that need to be cleaned up with large amounts of water, moving to intermediate containers that are more easily cleanable, and protecting the upstream and downstream users as much as the plant's customers.
Everyone benefits from business and operational changes that reduce the need for water cleanup, dilution, and rinses. Your plant can protect upstream users by not scooping up available water volume during times of drought such that consumers and smaller water users are affected. Your plant can also protect downstream users through responsible practices for treating water leaving the plant, which can be accomplished by advanced production practices that ease consumption and reduce chemical or soiled waste streams. These practices both improve efficiency and help promote a stronger company brand in the eyes of an increasingly water-conscious public. Some products offered through Wright Process Systems Industrial Parts Distribution that could help: Arena Containers, Dekker Vacuum Solutions, Armstrong Condensate Recovery Equipment.