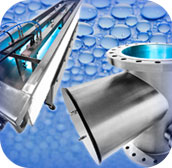 Aquionics offers non-chemical water treatment solutions to the food and beverage industry. Its UV technology can be used in pre-treatment processes and in direct-contact applications to help eliminate water-borne pathogens in food and beverage manufacturing.
For water reuse, Aquionics UV systems can treat industrial wastewater without using harmful chemicals – one key to ensuring that the water can be reused in other places at the plant. In addition, the UV systems can be used in a variety of places in the food processing line itself, from liquid sweetener disinfecting to clean-in-place systems.
To learn more, visit
http://www.aquionics.com/main/food-beverage
.