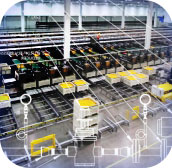 Wright Process Systems works with several equipment manufacturers that specialize in the produce industry. We work with you to determine which pieces of equipment best fit your food processing plant's needs, and we design a custom line for you focused on quality, efficiency and yield.
Some of our partner manufacturers include:
Mepaco
– mixers/blenders; hopper and auger systems; screw conveyors; dumpers, lifts and belts; auger carts
Unifiller
– fillers and depositors
Urschel
– slicers; dicers; processing and milling systems; shredders; granulators; honers and more
Contact us
for a complete list of partner manufacturers and to discuss your options for a process-specific design.