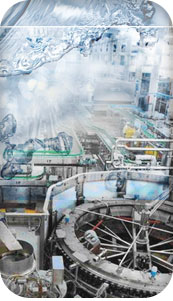 Wright Process Systems works with a number of equipment manufacturers and suppliers that offer water-efficient components to complement your processing line, including clean-in-place (CIP), high-temperature/short-time (HTST), reverse osmosis (RO) and other systems.
Among these offerings are
Anderson-Negele turbidity sensors
. The company's ITM-4 sensor assists manufacturers with water re-use and contamination protection. It uses infrared light for precise measurement of suspended solids. The ITM-3 optimizes "process start-up, final flush, product changeovers and CIP Flush control." Its backscatter light technology can be used on more than one product on the same line, and it detects product changeovers and water-to-product interfaces.
To learn more about the water-efficient solutions available to meet your facility's specific needs,
contact us
today.