Market offers prime opportunity for equipment manufacturers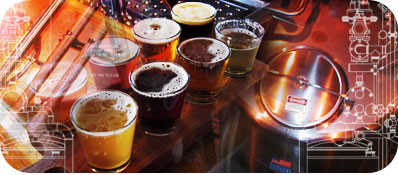 The number of breweries is on the rise nationwide – up 18.6 percent overall between 2013 and 2014. Smaller operations, including craft breweries (19.4 percent increase) and microbreweries (27.8 percent increase), are showing a particular upsurge in American markets.
With 431 craft breweries,
California leads the craft beer market
, followed by Washington (256 craft breweries) and Colorado (235 craft breweries). Additional state rankings and stats are available
here
.
With that kind of growth, the brewery market holds tremendous opportunity for equipment manufacturers to supply state-of-the-art equipment to these producers. Similarly, more craft spirits distilleries are opening across the country. You can see an updated list of whiskey distilleries, by state,
here
and access a searchable map of craft distilleries
here
.
With our
expertise in designing and building alcoholic beverage facilities
,
Wright Process Systems provides the perfect link between brewery and distillery customers and OEMs
. We can install your systems into your customers' facilities and integrate them with the steam, air, water and other utilities the brewer or distiller needs to complete its production line.
This
article on sustainable brewery design
from
Green Building & Design
highlights the thought process brewers go through when planning a new brewery design. The article attributes the idea that "initial design decisions must be driven by the organizational demands of the equipment because at the end of the day, efficiencies in the brewing process equal cost savings," to architect Peter Weber, who worked on a brewery design in Colorado.
In addition, more breweries are focused on ways to conserve resources – both for environmental reasons and because of its impact to their bottom line.
"Intelligent brewery design must bleed into the operational side of things, too. Beer is composed of about 95 percent water, making clean and abundant natural resources essential to producing a quality product. As a result, many brewers are paying closer attention to the ways in which they source and use water to ensure a sustainable future," writes Emma Janzen in the gb&d article.
With the need for efficiency and sustainability in mind, it pays to work with a team of experts who are well-versed in beverage plant design, analysis and integration. Wright Process Systems is your source for that expertise, and our experience can make a big difference as you work with your customers. Your equipment design combined with our process, installation and integration experience means a better experience for your customer.
Reach out to Wright Process Systems today
to start a conversation about how we can work together on your next brewery or distillery project.