Engineering specialist urges looking
at consumer trends and buying habits
In an interview with
Food Engineering
magazine, engineering specialist Madinah Allen urged food manufacturers to look at consumer trends and buying habits to inform their process design decisions. Some of those consumer trends include the demand for convenient snack foods and gluten-free products.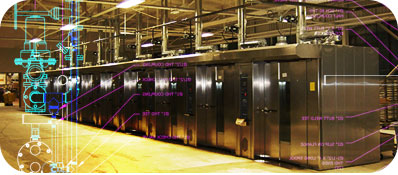 Allen is a senior director of corporate engineering and technology at Snyder's-Lance Inc., the makers of Snyder's pretzels and other snack foods. He also represents PMMI, The Association for Packaging and Processing Technology.
"According to Mintel, sales of gluten-free products are expected to top $15 billion in 2016—almost a $5 billion increase from last year's expected sales. As manufacturers continue to focus on this growing market segment, consumers will see greater product variety on store shelves," Allen said.
Trends toward allergen-free products necessitate line flexibility, according to Allen. He recommends modular designs that can meet strict food-safety standards while maintaining plant efficiency and changeover.
In its
13th Annual Food and Beverage Manufacturing Trends
publication, audit and tax advisory firm Grant Thornton reported that food manufacturers plan to invest in updated and more efficient production lines this year, stating:
More than one-third (37%) of respondents say their companies will increase capital spending this year, and half of those firms are budgeting double-digit increases. Given the number of new lines and facilities either being planned or commissioned, some of those increases will likely stretch into triple digits.
Automation projects ranging from the addition of a robotic palletizer to automating entire lines are frequently cited priorities, along with replacement of obsolete computers and other equipment.
This
infographic
highlights some of the key findings of the Grant Thornton report.