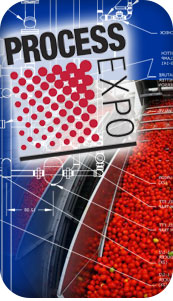 Representatives from Wright Process Systems attended this year's Process Expo, held Sept. 19-22 in Chicago. We take the time at this event to learn more about innovations in the industry that can help our customers enhance and improve their systems. We also enjoy connecting with our
equipment manufacturer partners
who attend Process Expo to discover new developments coming out of their shops.
Of particular note at this event was the new Innovations Showcase, which highlighted new products and technologies for food processors. This
blog from ChemInfo
covers just a few of these innovations, from algae-based sausage casings to silicone-free belt lubricants. Likewise
Meat+Poultry
covered the event on its blog and developed a
slideshow
spotlighting several innovations from the expo.