Helping food manufacturers decide between upgrades
to an existing facility vs. a ground-up rebuild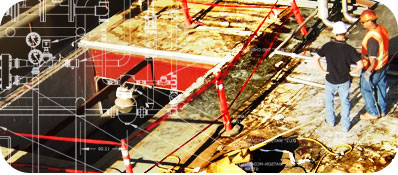 In its annual Plant Construction Survey, Food Engineering magazine reported that both new construction and upgrades to existing facilities were on the increase last year as compared to the eight-year average. Food Processing magazine pointed to craft beer, health-and-wellness, seafood and poultry as some of the most active sectors in the food industry showing plans for capital investment in the coming years.
As you plan for future production growth, or if you need to make upgrades for health and safety reasons, it's useful to consider if a brand-new build or a retrofit of your existing facility makes the most sense. Here are some points to consider in that process:

Budget and capital
A ground-up new build often requires more capital in the short-term, but it can result in a more efficient system and higher production in the long-term, which could translate into more profits. A review of your current system and an assessment of whether or not your plant has the capacity to meet future production goals is a key step in determining whether a new build makes financial sense.

Access to capital in the form of loans is one concern, but Food Processing reports that lenders are looking favorably on producers who are meeting on-trend consumer needs, saying, "when a company's growth forecasts match industry trends, bankers will provide capital." In addition, according to the publication, recent lower cost of commodity ingredients like sugar and corn can help free up some food manufacturers' funds.

Timeline
Another big consideration is time. A new build will require a longer timeline as you search for the right location, obtain permits and work on the design. Again, weigh the short-term loss of time with the potential for long-term growth and profit development. In addition, working with a skilled design-build team can help you save time and hassle because they are pros at handling permits and the design process in a time-efficient manner.
Food safety
As food safety requirements continue to become more strict across the entire food and beverage industry, investment in sanitation systems is crucial to any food manufacturing plant. The process for designing a facility with state-of-the-art food safety in mind can be a lot more straightforward in a ground-up build, but it is not impossible in a retrofit project. Again, an assessment of your current production line will help determine which option makes the most sense for your business.
Efficiency and automation
When considering either a new build or an upgrade, most food producers are seeking greater automation and efficiency. Both can increase your bottom line by creating cost savings in terms of energy usage and manpower hours. Designing an ultra-efficient system can be easier in a ground-up build, but there may be ways to improve your existing site to maximize its production value.

The team of WPS engineering and construction experts can walk you through the decision to build new or retrofit your facility. To learn more about our comprehensive design-build services, visit us online.