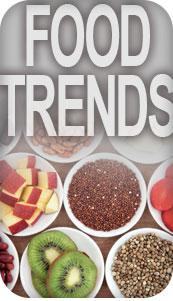 Everyone from famous restaurateurs to analyst groups try to predict the next big food trends and stay ahead of consumer demands for the coming year. Here are just a few of the food trends earning some media buzz as we prepare for the New Year.
New proteins – According to one Forbes writer, consumers are looking for protein sources that they feel are healthier and more sustainable, such as nuts, algae, and vegetable proteins.
Dairy alternatives – Another trend that is making its way to the mainstream is a demand for dairy alternatives. Nut milks, plant-based "ice creams" and more are gaining more of a following.
Fewer ingredients and clear labeling – A trend we have been watching is a consumer call for more transparency in ingredients lists. The Forbes writer confirms that trend, writing, "…28 percent of shoppers want minimal processing and one-quarter say they want a short list of ingredients."
Sustainable sourcing – As we have seen in California, consumers are becoming more aware of how their food is produced and how it impacts the environment. As FoodDive wrote in this article, "eco is the new reality."
No artificial ingredients – Analyst firm Mintel called artificial ingredients "Public enemy No. 1" in its recent report on food trends and showed the call for more natural ingredients as "mainstreaming" in the United States.
Single portions – Mintel also highlighted the need for single-serve portions and packages for people who often dine alone.
These are just a few of the trends driving innovation in the food and beverage industry and, as always, we will continue to report on trends that could have an impact on your business in the year ahead.